Our games
After a hard day's work is done we still try to find time to create our own games. Starting a new project is always tempting, finishing it is a hell. But once it's released and someone out there enjoys it you just want to start all over again with one of the ideas you left in the oven.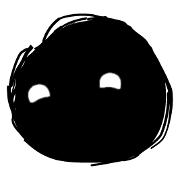 Inky Caps Clash
It's not our first local family multiplayer game – we created two years ago in the Tenerife Lan Party Game Jam, but it's the first one to be published in mobile devices!
Inky Caps Clash is a local multiplayer game in which you must cover the ground in your team's ink before the music ends. Free for all or teaming up: run, clash into your adversaries and paint it all!
Dale al Play
It was contract job for the Philharmonic Orchestra of Gran Canaria, but in Dale al Play we were granted creative freedom to do whatever we wanted with the available budget. That's why we consider it a game of our own! It's part of a series of concerts for families in a peculiar format: attendees enjoy orchestrated videogame music, a stage play and save the day by playing videogames!
Slider
Slider began as a final degree project, but turned up into one of our favourite creations. A game designed to offer short and challenging game sessions!
Evaluate the board, draw the best path, slide through enemies and break your own highscore. Simple but compelling!
Pixel Theory: Leviatán
Pixel Theory is a collaborative movie that explores, from different points of view, the consequences of the creation of The Program. Leviatán is its prequel, designed as a mini point'n'click adventure. What apparently was just an unimportant maintenance issue in Pandora Corp. HQ, soon turns into the most important crisis in the history of the corporation.
When we were asked to take part in this project just for love (and a bit of fame and glory), we jumped in with both feet. An outstanding team, a great idea. Results could only be superb!
Rejuice!
Rejuice! is our most casual game. We experimented with a peculiar mechanics, making the player keep a pile of fruits in balance while he/she squishes and puts them into equal groups. We fancied creating something similar to Match-3.
Published in 2012 for Android, it is the first game we tried with a free distribution model with advertisements.

Rain, Sand, Stars
In 2012 we boarded Tsuyu on a great adventure: save the galaxy, that's all; a titanic task for a tiny creature.
With Rain, Sand, Stars we explored the design of a game divided into levels. The idea was to group, in turn, those levels into planet systems, each of which with its own inhabitants. Finally the game was published with one system, the Yaks'. We'd love to expand it someday. It seems young players love it!

Oddy Smog's Misadventure
Initially, Oddy was a maintenance robot. Later, a white rat trapped in a huge machine. It finally ended up as a charismatic black smoke cloud.
Our second game, published in 2010 for iPhone 3GS, is still alive in many devices. Up to now it is our favourite, the most complete and entertaining. The good critics it received encourage us to keep on creating games.
Sound Juggler
Our first game, published in 2009 for iPhone 3GS was our initial contact with App Store and with our main work tool, Unity.
We set as an objective to create something simple and entertaining where music had a fundamental role. The result was better than expected and we still remember our surprise when we saw it published.
But also our frustration when it was removed from the store because it was never updated… Someday we'll publish it again!